Email News August 2011

Welcome to the August 2011 edition of Marine South East's email newsletter...
If you would like to submit an article for consideration please email text and image to sarah@marinesoutheast.co.uk
Posted 2011-07-26 17:47:24

New initiative launched to retain highly skilled employees across advanced manufacturing and engineering sectors...
Mark Prisk, Minister for Business recently announced the launch of a new national web based system, Talent Retention Solution (TRS), which will help match skilled employees facing redundancy to UK companies (including SME's) in growing sectors of advanced manufacturing and engineering who are recruiting.
Posted 2011-07-14 12:18:20

Have your view on sea state forecasting...
Marine South East and EMU Limited are working on a project to improve sea state forecasting, and want to make sure the product that is delivered satisfies the needs of the users, and that could be you!
Posted 2011-07-26 09:56:00

Solent Local Enterprise Partnership launches Solent Apprentices for Business...
The new Solent LEP has launched an innovative new scheme that will enable Solent businesses to create and facilitate apprenticeships.
Posted 2011-07-25 11:21:33

SMARTA Sustainability and Profitability project for marine companies extended...
Since its launch in 2009 the SMARTA project has acheived some notable successes in helping marine-sector businesses improve sustainability and profitability, so it's very pleasing to be able to announce that the project has been extended by 6 months and will now run until June 2012.
Posted 2011-07-27 12:16:17

Wind of the Coast (WICO) 5th Newsletter available to view...
The 5th and final Wind of the Coast (WICO) newsletter is now available to view on the WICO web pages.
Posted 2011-07-19 09:53:08

Your chance to influence the Hampshire skills landscape...
Hampshire businesses are being asked to help affect the local skills strategy and policy by completing the Hampshire Skills Audit.
Posted 2011-07-21 13:15:34

Making the most of your web presence - free web reviews available for marine companies...
As part of the Design and Innovation for Business Sustainability project, South East Design is
offering a limited number of FREE impartial sustainable web reviews to eligible businesses.
Posted 2011-07-18 13:02:08

Serious Gaming shows potential to improve productivity in Ports at recent TIME event...
Serious gaming technology has been playing an important role in sectors such as emergency services where real-life scenarios need to be simulated to help teams to train for difficult operations in a hazard free environment.
Posted 2011-07-27 14:19:36

Kent scheme helping graduates onto the career ladder...
GradsKent is a scheme to develop employment opportunities in Kent that are suitable for students and graduates.
Posted 2011-07-25 12:19:38

Southampton boatbuilding apprentices to showcase skills on global stage...
City College Southampton has been chosen as one of only two colleges nationally to showcase its boat building skills during the 2011 WorldSkills competition being held in London later this year.
Posted 2011-06-30 10:14:31

The race is on to save Britain's largest sea-going heritage steamship...
One of the country's most important historic steam ships, S/S Shieldhall continues to struggle for survival. After raising an amazing £80,000 to fund its bi-annual "MOT", the Maritime & Coast Guard Agency Surveyor detected extensive corrosion of some frames below the Engine Room deck-plates.
Posted 2011-07-11 11:10:46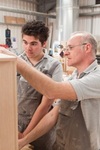 Calling all apprentices and young shipwrights, 19th October 2011, Southampton...
The Worshipful Company of Shipwrights, in conjunction with the University of Southampton, is hosting a series of annual lectures designed to give apprentices and young shipwrights an exciting insight into the opportunities, technologies, and future developments in the UK yacht design and boat building industry.
Posted 2011-07-18 11:09:10