Email News August 2018

Welcome to the August 2018 Email Newsletter from Marine South East...
If you would like to submit an article for consideration please email the text and a suitable image or logo to sj@mseuk.org
Posted 2018-07-09 17:21:23

Learn more about the business opportunities for Multi-Use Platforms at Sea...
Marine South East held a constructive workshop at Seawork 2018 to explore business opportunities for Multi-Use Platforms at sea under the auspices of two projects being coordinated by Marine South East; ENTROPI (Enabling Technologies and Roadmaps for Offshore Platform Innovation)and OPEC (Offshore Platform for Energy Competitiveness).
Posted 2018-07-27 11:30:11

New vessels selected for CLINSH emission reduction project for inland waterways...
CLINSH is a European funded project with a consortium of international organisations working together to promote clean inland waterway transport. Marine South East is the English partner of this European LIFE Program funded project.
Posted 2018-07-27 15:36:05

Updates from Onboard Erasmus project regarding apprenticeship models for the Ports and Logistics sector...
It is widely recognised that Vocational Education & Training (VET) can reduce high youth unemployment levels and through initial training of young workers, promote a better match between learning outcomes of the training paths and the enterprises skillsí needs.
Posted 2018-07-27 12:46:31
Improving Productivity for Businesses - apply for funding...
The Department for Business, Energy and Industrial Strategy (BEIS) has up to £2 million to invest in trials of innovative ways to improve productivity for micro, small and medium-sized businesses (SMEs).
Posted 2018-07-09 17:36:31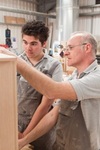 Funding for training for Solent businesses...
Are you an organisation with fewer than 250 employees? Could you benefit from a free training needs analysis? Does your workforce need developing to fill crucial roles requiring technical and higher level skills? Read on ...
Posted 2018-07-13 14:12:43

Apprentice Mentoring Workshop, 5th September 2018, Southampton...
British Marine, with support of the Solent Local Enterprise Partnership (LEP), are offering two workshops (one full day, followed by a one half day) for those people who have an active role in mentoring apprentices.
Posted 2018-07-09 17:27:13

Directors Breakfast at The Yachtmarket.com Southampton Boat Show, 18th September 2018, Southampton...
What better way to talk about luxury than at a Solent LEP Directors Breakfast at TheYachtMarket.com Southampton Boat Show.
Posted 2018-07-27 13:21:05