Email News December 2018

Welcome to the December 2018 Email Newsletter from Marine South East...
If you would like to submit an article for consideration please email the text and a suitable image or logo to sj@mseuk.org
Posted 2018-11-06 18:02:16

Tender for expert consultant role looking at Key Enabling Technologies on Blue Growth...
Marine South East is seeking to appoint an expert consultant to carry out some specialist analysis under the European KETmaritime project http://www.ketmaritime.eu/ that is focusing on the role of Key Enabling Technologies (KETs) on blue growth.
Posted 2018-11-28 18:03:39

Multi-Use Platforms at Sea; OPEC and ENTROPI project updates...
The OPEC project has been investigating the technical and economic feasibility of Multi-Use Platforms at Sea to support various combinations of revenue generating applications such as renewable energy generation, aquaculture and security and surveillance. The project completes at the end of December 2018.
Posted 2018-11-27 14:18:11

OnBoard - Digital Skills for the Port and Logistics Sector...
OnBoard is an EU project with partners in Ireland, Portugal and the UK. Focusing on Port and Logistics it is working with employers and training organisations to develop apprenticeships meeting the sector's future needs.
Posted 2018-11-30 11:31:53

Solent LEP launch new Masterclass series for local businesses...
The Solent LEP Business Support Hub has announced a range of new masterclasses, funding application workshops and monthly business clinics for SME businesses within the Solent LEP region.
Posted 2018-11-27 12:47:56

New Marine Technologies qualifications available from September ...
Bournemouth and Poole College in collaboration with Bournemouth University have announced the development of a new part time Level 4/5 Engineering Higher Education Programme, which will be available from September 2019.
Posted 2018-11-27 13:41:13

New British Marine Expo announced for March 2019...
The inaugural British Marine Expo will take place on 26th and 27th March 2019 at St. Mary's Football Stadium in Southampton.
Posted 2018-11-06 18:07:19
300 apprenticeship standards and counting….New opportunities for employers to up-skill their workforce...
The Institute for Apprenticeships (IFA) has now approved over 300 new apprenticeship standards for delivery. Ranging from intermediate level 2 standards to degree and even masters level qualifications, these standards span a wide range of occupations in sectors from business and hospitality to engineering, transport and logistics.
Posted 2018-11-27 12:24:49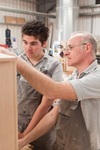 Have your say in what the skills shortages are in the marine industry before 6th January 2019...
The UK marine industry has long dealt with a wide range of skills shortages. And over the years many marine member companies have been unable to fill roles because they don't feature on the Government's Shortage Occupation List (SOL).
Posted 2018-11-21 21:48:55

DIT South East; Maximise your Investment at Exhibitions, 4th December 2018, Southampton...
DIT South East are hosting this event to 'Maximise your Investment at Exhibitions' which should lead to greater engagement, greater relationships and greater business success. The one-day workshop is taking place on 4th December from 0900 - 1700 in Southampton
Posted 2018-11-27 12:09:02

Danish Embassy Offshore Wind Seminar; 6th December 2018, London...
The Danish Embassy in London will host a seminar that offers an overview of current and future developments in UK offshore wind industry. The seminar will provide answers to what we can expect in 2019 in terms of policy developments, market opportunities and technical advances, and will also offer excellent networking opportunities.
Posted 2018-11-16 15:00:45

Solent LEP Masterclass on Exporting - A World of Possibility, 14th December 2018, Southampton ...
Join the Solent LEP on their first Solent Masterclass for Business; EXPORTING - 'A world of possibility', taking place Friday 14th December 2018 from 10am to 12pm at the National Oceanography Centre, Southampton.
Posted 2018-11-27 12:36:05