UFO Matchmaking sessions to prepare for funded projects 20th January 2021
Posted 2021-01-11 13:01:04 by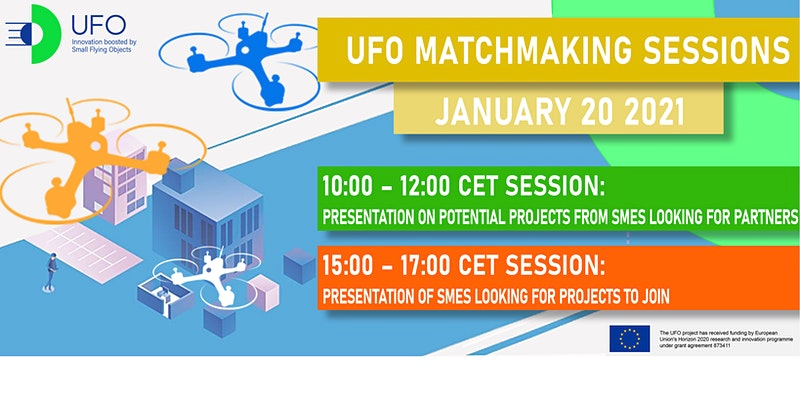 The UFO project is inviting SMEs to virtually meet the partners of the project in one-to-one meetings of 10 - 15 minutes to present your project idea if you are looking for partners or present your competences if you are looking for a project.
The UFO project is seeking to financially support collaborative projects (of 2 or more SMEs) to develop innovative products and services by integrating new technology solutions and know how in the Small Flying Objects (SFO) sector i.e. Smallsats, Drones and High Altitude platform systems. The call is aimed at addressing technology challenges across six emerging industries including Blue Growth, Climate, Environment, Mobility technologies, Digital Creative & Gaming and Finance and Insurance. For more information click here.
The Matchmaking meetings on the 20th January 2021 will take place on the visual collaborative platform SOFA; registration and links to join the meeting can found here.
If you have a project idea join us:
January 20/2021 between
10:00 – 12:00 CET
If you are looking for a project join us:
January 20/2021 between
15:00 – 17:00 CET
For full details about the UFO project and funding opportunities please visit: https://www.ufoproject.eu/