DIT South East; Going Global in a Day, 2nd-3rd March 2021, online, free event
Posted 2021-02-16 11:04:47 by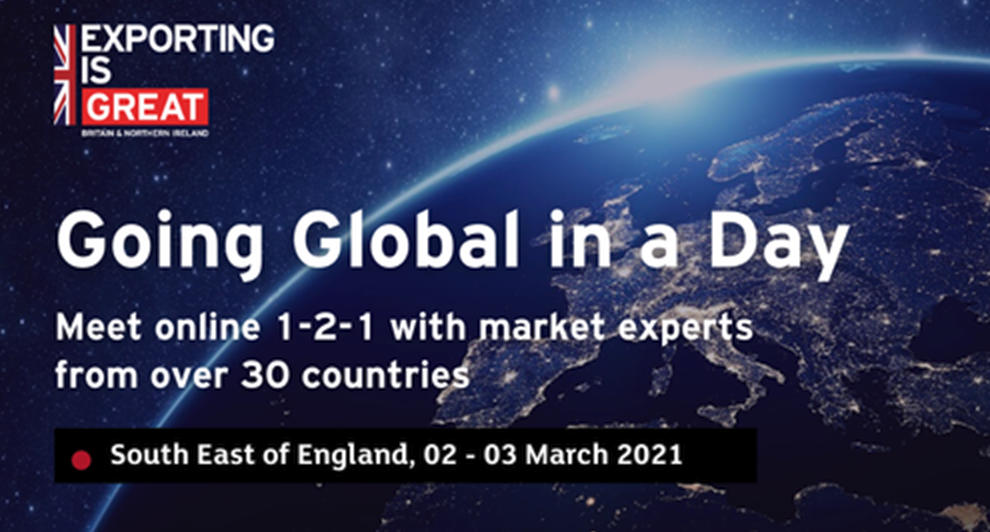 Going Global is a free two-day virtual event for South East of England businesses seeking to explore new export markets and achieve international expansion.
This free online event enables businesses to select, meet and showcase your business to experts from over 30 global markets. During private 1-2-1 meetings, the overseas commercial officers will offer you bespoke advice and critical market insights to help your business explore its global potential.
If you are looking to build relationships, open doors and boost sales in new export destinations, apply today for Going Global in a Day. With a range of free sector-specific exporting seminars throughout the day, it's an opportunity not to be missed.
If you are a South East of England based business with ambition and drive to scale globally, this virtual event is an incredible opportunity to learn from the specialists, meet your peers and understand how to access and grow in new markets. 
To find out more about the countries on offer, details about the experts on hand and registration information please click here.
Please Note: Places are limited to two delegates per company. We highly recommend applying quickly to secure your place - meetings are in high demand and filling fast. Applications close 25th February 2021.
If your application is successful, to confirm your place at the virtual event you will be required to electronically sign a registration form.
Contact us
Have a question about this virtual event? Email our team at tradeevents@newable.co.uk