A Circular Economy for Fishing Gear: Challenges and Opportunities; 26th May 2021, 9.00am-12.00pm, online
Posted 2021-04-09 16:49:51 by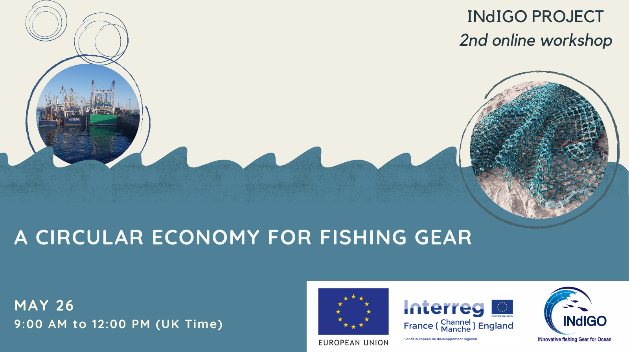 The INdIGO project is organising this online workshop to discuss, A Circular Economy for Fishing Gear: Challenges and Opportunities, Wednesday 26th May 2021, 9.00am to Midday.
The agenda for the event is as follows:
Introduction to the INdIGO Project; Claire Allanos, University of Southern Brittany, Project Lead
What does the Circular Economy for Fishing Gear look like?; Amanda Burton, Engineering Design Research Assocaite, University of Plymouth
Fishing Gear; Retrieval, Recovery, Recycling: on the ground perspective; Rob Thompson, Odyssey Innovation
Solutions to Plastic Waste; TBC
Fisherman's perspective; TBC
CEFAS Observer on the delivery of the Fishermen's Survey and perception by the fishing industry
Policy Development and Research; DEFRA and Environmental Consultancy, Resource Futures
Interactive session.
To register for this free event please click here.