Introduction to Professional Yacht Brokerage, bi-weekly course, 1st November - 8th December 2021, online
Posted 2021-09-13 14:14:11 by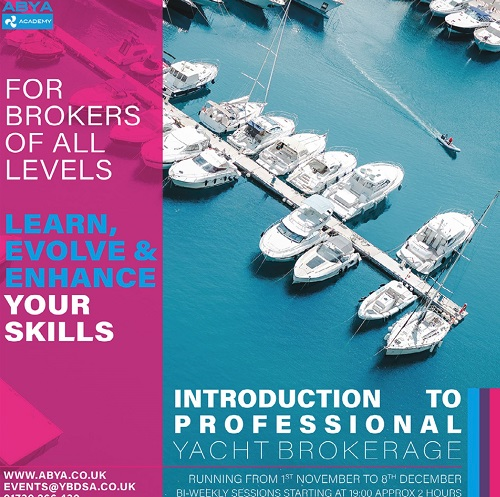 The ABYA Introduction to Professional Yacht Brokerage Course is back and is now available online.
Learn the fundamentals of what is involved in becoming a Professional Yacht Broker and gain a step up your career path as a Marine Professional. Join other ABYA Members working at prestigious brokerages who have also completed this course.
This ABYA Course will offer you the crucial knowledge you need to understand the foundations and diverse workings involved in yacht brokerage. 
The course gives prospective yacht brokers and dealers all the information they need to operate successfully and professionally. It is a cost-effective way for more experienced brokers and dealers to keep well-informed of recent developments and the latest legislation, enabling you to maintain your professional and competitive edge. If you're looking for a career change in yacht brokerage, this will open new doors to opportunities for you to change direction.
Providing you with topical and instructive presentations covering elements from Marine Law, Insurance and Finance. Course leader Andy Cunningham will lead you through the Brokerage process and will be supported by a host of external speakers of Marine Industry professionals. By learning from experienced specialists in their field, you will have access to a vast amount of knowledge and expertise to support you on your journey.
If you have any questions, please email Kay at events@ybdsa.co.uk