Workforce South Conference 2022, 16th February 2022, Solent Hotel & Spa, Whitely
Posted 2021-12-01 12:33:37 by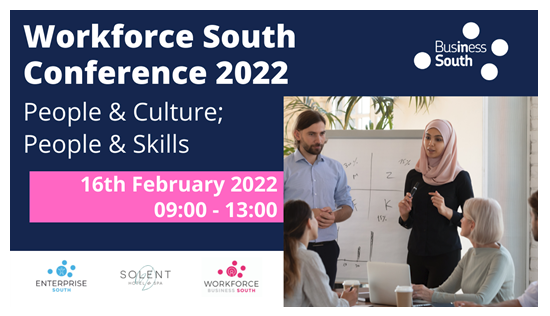 Workforce South is Business South's business led Action Group that brings together HR Professionals and Business Leaders to explore relevant and business critical issues facing us today.
The Workforce South Conference is focused upon our People in the context of the economy in the Central South and the Covid-19 recovery.
The Conference will feature high-profile speakers and panel discussions that provide the opportunity to dive into topics most suitable for your needs. We anticipate strong demand for places and you are encouraged to reserve tickets without delay.
Date: Wednesday 16th February 2022
Time: 09:00 – 13:00
Venue: Solent Hotel & Spa, Whiteley, Fareham, PO15 7AJ
Champion Tickets – £50.00 plus VAT
Non Champion Ticket – £100.00 plus VAT (Payable by credit card at time of booking)
For more information and to book tickets click here.