National Conference: Innovate for Success; 15th-16th March 2022, Birmingham
Posted 2021-12-09 17:21:36 by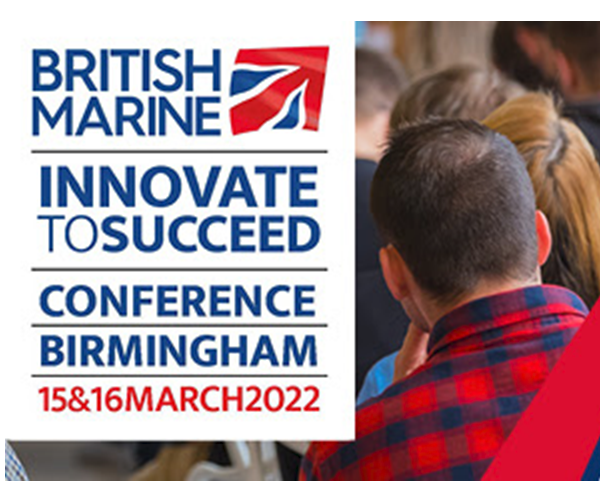 BMF's new annual conference for marine leisure, superyacht and small commercial businesses aims to answer the need for greater cross-industry learning. collaboration and networking. This inaugural event, taking place 15th-16th March 2022, will focus on how to innovate for success in the face of many changing trends, such as consumer lifestyle choices, post pandemic and Brexit impacts to the decarbonisation agenda and opportunities presented by the green economy.
The comference will be held at the co-located National Conference Centre and National Maritime Museam in the Midlands, chosen for the central location, excellent facilities and good rail, road and air links.
National Conference: Innovate for Success 2022 will be a busy two-day professionally managed programme with:
Inspirational headline keynote speakers
Carefully curated presentations offering insight from subject matter experts
Dedicated presentation and break-out spaces for discussion, networking and exhibits
Meet and mingle sessions maximised by onsite lunches and refreshment breaks
The opportunity to engage with the hundreds of marine professionals attending will be further enhanced by a networking buffet dinner, held among the magnificent exhibits of the adjacent world-leading National Motorcycle Museum. Discover innovative partners and collaborators of the future while inspired by pioneering engineering excellence and bravery.
Who is shaping the programme?
The National Conference has a steering group from the British Marine Council, the body that represents members' interests through regional and sector associations. The group is led by Paul Martin, a long-standing British Marine member, past chair of the Marine Trades Association and recent non-executive director of the British Marine Board. This group will bring the feedback of members to British Marine and its appointed professional event organiser.
How can I get involved?
National Conference: Innovate for Success 2022 will connect hundreds of marine professionals with a whole new range of information and contacts vital to future business success.
As a delegate you'll be able to learn and network throughout the two days. We're also seeking your views right now regarding the programme content (please contribute in the form below)
As a sponsor your brand will be associated with a headline marine industry B2B event addressing the leading business topics of the day
As an exhibitor the National Conference enables a significant new early year opportunity to raise the profile of your services, product ranges and new launches in a highly cost-effective way
You can register your interest by clicking here.