View the News Archive
Pitching opportunity for Smart Ports start-ups
Posted 2021-01-05 16:45:05 by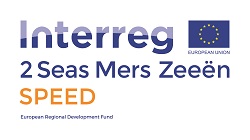 Start-ups with solutions for smart logistics and smart ports are being given the opportunity to pitch to investors and tech-sourcing corporates via the SPEED project.
The Big Score session on Smart Logistics will offer smart port start-ups from the UK, Belgium, France and the Netherlands the opportunity to pitch their technologies to an expert panel of industry experts, investors and corporate partners.
The session is a unique opportunity for start-ups who:
are looking for funding
want to do business
are eager to learn from industry experts
The event will be hybrid in set up with live-streamed pitches and opportunities for one-to-one meetings.
The requirements for the start-ups to pitch are as follows:
Business active in at least Belgium, France, the Netherlands, or the UK
Having raised pre-seed funding
Looking for seed / series A funding / coporate prospects
Impactful B2B smart port / logistics solution
Generating product revenue
Strong clients / references / use cases
To find out more visit the LinkedIn page for the event at https://www.linkedin.com/events/6749732755208212480/
The application deadline for start-ups is 13th January 2021.
Additional information can be found here.