View the News Archive
Space2Waves Calls for Tenders for hybrid matchmaking missions in selected countries
Posted 2021-10-21 17:12:10 by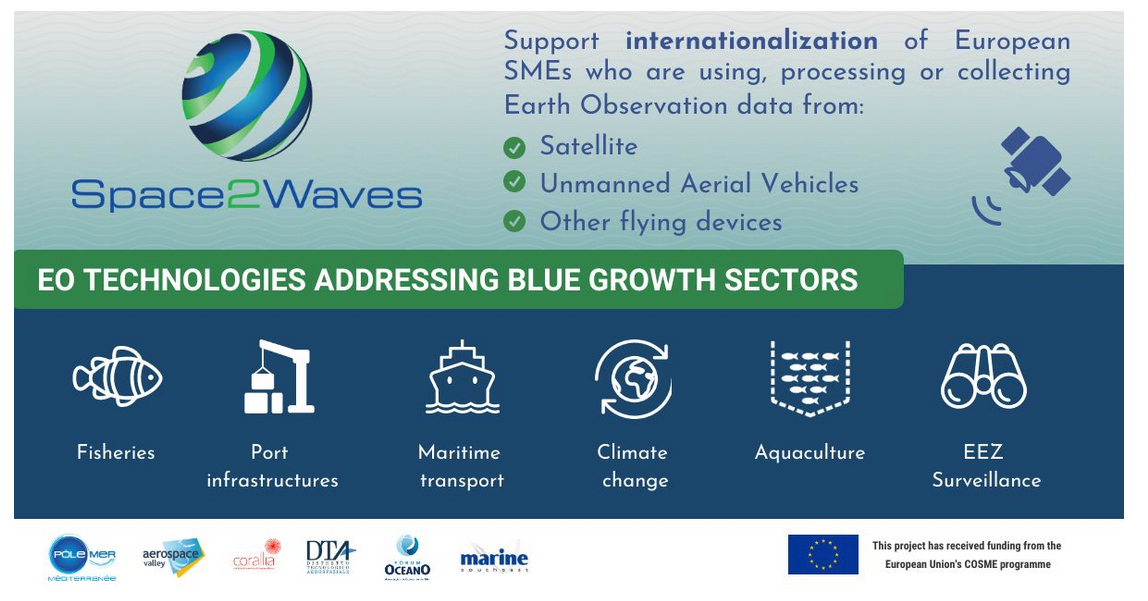 The Space2Waves project, of which MSE is a partner, has launched 4 Calls for Tender for providers of hybrid business match-making missions to four selected territories in the sectors of the Blue Economy and Earth Observation technologies.
Space2Waves is funded by the European Commission; the project is supporting 30 European SMEs in their internationisation strategies in the 4 markets of Australia, Canada, the United Arab Emirates and South Africa.
Access to thirs markets is a leverage effect for company's competitiveness and will be a strong asset in the development of SMEs cementing partnerships abroad. In its internationalisation roadmap, Space2Waves is providing the selected European SMEs a tailor-made programme to assist their internationalisation in the target countries.
The various partners are looking for service providers to organise hybrid matchmaking missions in Canada, Australia, the UAE and South Africa in the sectors of the Blue Economy and Earth Observation.
The service needs to include:
Digital B2Bs to start building relationships virtually with local stakeholders before the country visit;
A physical mission of 3-5 days to deepen the first contacts initiated by the SMES. If travel is not possible due to the Covid situation (or for any other reasons), additional digital B2B and /or other activities will need to be planned.
The subcontractors will need to have relevant and suitable local stakeholders or organisations based on the competancies of the SMEs taking part and their products and services.
There are various deadlines for proposals to be accepted.
Links to all the tenders are as follows: