Funding available for SMEs working on technologies for small flying objects in the Blue Growth Sector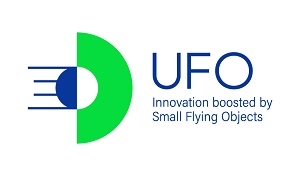 UFO (Emerging IndUstries new value chains boosted by small Flying Objects) is a new European Project exploring opportunities for small flying objects including drones, small satellites and high altitude platforms.
Marine South East is a partner in the project which is about to launch a call for proposals to fund up to Euro 60K per SME for projects offering technical solutions and innovations.

The FSTP (Funding Support for Third Parties) scheme will encourage SMEs to submit cross-border and cross-sectoral disruptive ideas to the UFO call for proposals, detailing their business proposition, their technical and commercial challenges and the financial assistance they require.

Up to Euro 3.6M will go directly to up to 70 eligible SMEs through the funding applications which will be launched in November 2020 at the following link:

https://www.ufoproject.eu/call-for-proposals/

To express your interest in the funding ahead of the launch please email David Rea from MSE; dr@mseuk.org

The type of projects that will be accepted include:

* Feasibility of technology analysis, adaptation and development of technology for use in the Blue Growth sector and analysis of a new project concept for emerging industries using small flying objects.

* Demonstration and implementation of a demonstrator for a given market sector

* Market study and business development support.

The maximum amount to be granted per SME will not exceed Euro60k in total even in the case of multiple granted FSTP scheme type. SMEs applying as a consortium will benefit from FSTP scheme types up to Euro60k each.

The Euro60.000 limit includes the costs of participation of the project partners (universities, research centres, public authorities, living labs, large companies, etc.), if any, that SMEs may bring in their application (as subcontractors). All interested SMEs can apply to one or several FSTP scheme types in accordance with its needs.

More information will be available in November 2020 when the scheme will be launched.

For any enquiries regarding information and/ or clarification on FSTP schemes, please contact David Rea from MSE; dr@mseuk.org

The UFO project has received funding from the EU's Horizon 2020 Innosup-2018-2020 Programme.


Send this story to a colleague
Posted 2020-09-22 16:46:06
« Back to news

Subscribe to our monthly newsletter &nbsp&nbsp