Glycerol fuel project (GLEAMS) 'Interest Group' attracts attention from around the world
Posted 2013-12-02 08:26:59 by Admin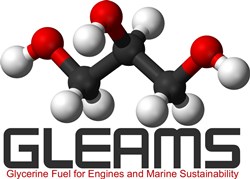 The technology is already deployed in the construction sector for combined heat and power plants and the project is developing this for use in conventional marine diesel engines and exploring how it can best be adapted to meet marine safety and environmental requirements.
The GLEAMS 'Interest Group' was launched in November 2013 to enable potential end users and other interested parties to interact with the project, be the first to see public project information and explore possibilities for future commercial collaborations.
Following coverage in the trade press it has attracted new members from marine companies of all sizes, NGOs and government organisations located in the UK, Europe, Korea, Russia and the USA. Members interests include R&D, design, manufacture, supply chain (including fuel), vessel operators and environmental,regulation and compliance.
Their input will be valuable to help identify the key drivers and barriers for the adoption of this novel fuel and develop routes to market.
Through the 'Interest Group' website members can follow progress of the project and contribute to debates on key topics. This interaction will contribute to the agendas for the workshops and networking sessions which the project will be hosting.
The first workshop will be at Lloyd's Register, London on Thursday, 27th February 2014. All 'Interest Group' members will be invited to attend.
Membership of the Interest Group is free of charge, to join please use the following link:
http://groupspaces.com/GLEAMSInterestGroup/join/
GLEAMS Partners
* Aquafuel Research Ltd
* Gardline Marine Sciences Ltd
* Lloyd's Register EMEA
* Marine South East Ltd
* Redwing Environmental Ltd
Gleams is co-funded by the Technology Strategy Board