GLEAMS Project glycerine-run marine engine to be on display at Seawork 2014
Posted 2014-06-02 10:16:08 by Admin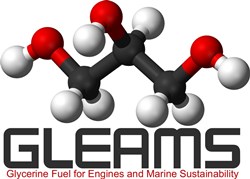 The Cummins marine engine will be on display throughout the exhibition on the Alicat workboat on berth V28, courtesy of Gardline Marine Services, who are partners in the GLEAMS (Glycerine Fuel for Engines and Marine Sustainability) project, and Dalby Offshore, the vessel's new owners. The Technology Strategy Board funded project is investigating the use of glycerine as a marine fuel to comply with the highest regulations for sulphur and nitrous oxide emissions, as well as slashing carbon emissions and potentially reducing costs.
The seminar, being held on Wednesday 11th June 2014 at 2.00pm at Seawork will explain why glycerine is an attractive proposition for use as a marine fuel and give an update on the testing being done to validate glycerine as an alternative to conventional marine fuels.
To register for the free event please follow the link:
http://
www.marinesoutheast.co.uk/event_bookings/
The GLEAMS project has already attracted global interest from vessel operators, engine manufacturers and bunker providers as well as people keen to learn about this sulphur-free alternative fuel.
To find out more about the possibilities for glycerine as a marine fuel visit the Alicat workboat on berth V28 at Seawork and attend the free seminar on Wednesday 11th June 2014 at 2.00pm.
Additional information and reports are also available via the GLEAMS Interest Group which is free to join at:
http://groupspaces.com/GLEAMSInterestGroup/join/
Attendees will also need to register to enter the Seawork exhibition and this can be done online at
http://
www.seawork.com