HEVIMA: Hybrid electric propulsion systems for small commercial vessels
Posted 2016-10-11 11:38:43 by Admin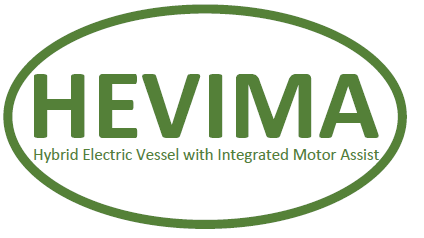 The project aims to develop an innovative modular parallel hybrid marine power system that surpasses the efficiency and emission levels of existing hybrid systems in the small commercial vessel market. Modularity is a key in this project to reduce the engineering and implementation cost of hybrid systems in ships. T system is particularly relevant in the small commercial vessel market for vessels which generally have low average loads, but also require extended periods of high power.

The HEVIMA project will focus on three integrated technologies: First, electric integrated motors (in flywheel), where it explores new types of electrical motor, which have high torque densities. The construction of these machines is very modular and scalable. Second, it develops safe, reliable, modularised and scalable high density batteries with algorithm assessing the safety critical battery deterioration and state of health. Third, it investigates a versatile and open energy management and control system, that enhance the adaptability/flexibility of energy/electrical power use with potential impact across a wide spectrum of different marine vessels.

The proposed novel system offers significant savings in fuel consumption, engine power rating, weight, emissions, noise and vibrations.

This innovative project will span 3 years with a total project cost of £1.32M. The potential cost saving to the marine industry are £6.5 M/year and the emission reduction is estimated to be 30,000/year tonnes of CO2.

Technology development and integration will be undertaken by REAP Systems, Devonport Royal Dockyard (part of Babcock International), the University of Southampton and Mainstay Marine Solutions Ltd. Lloyds Register will assess battery system safety. Cornwall Ferries will provide access to a vessel for integration and at sea testing. Marine South East and Babcock will provide exploitation routes for the technology into defence applications and export markets.