Blue Belt Technology Roadmap Project
Posted 2019-10-24 14:31:59 by Admin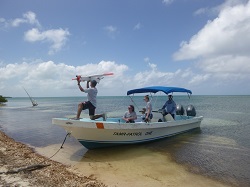 The Blue Belt Technology Roadmaps project (
https://
www.gov.uk/government/publications/the-blue-belt-programme
) is looking to identify and appraise innovative technological solutions for addressing the challenges associated with Marine Protected Area (MPA) management and sea fisheries control and enforcement in UK Overseas Territories (UKOTs).
If you are a business or individual interested in innovative technological solutions to address the challenges associated with surveillance, compliance and enforcement within protected marine areas in UKOTs, sign up at the following link to be part of the interest group.
https://
www.marinesoutheast.co.uk/bluebelt/
The challenges of managing remote, large scale Marine Protected Areas, and delivering effective fisheries control and enforcement, cover a broad range of surveillance methods stretching from detection to deterrence. The Marine Management Organisation (MMO) has been reviewing technology developments that have potential in the UKOTs, as well as in the context of domestic monitoring and control. For example, remotely monitoring human activity and identifying any risk associated with that activity, digital on-board observation of catches and downstream traceability. Marine South East will build on this and review wider technology options in producing the Technology Roadmaps.
Background to the Blue Belt:
The Blue Belt Programme supports the delivery of the UK Government's commitment to enhance marine protection for over four millions square kilometres of marine environment across the UKOTs.
The Blue Belt Programme is being delivered in partnership between the Centre for Environment, Fisheries and Aquaculture Science (CEFAS) and the Marine Management Organisation (MMO). The Programme also works closely with the Foreign and Commonwealth Office (FCO) and the Department for Environment, Food and Rural Affairs (Defra). The Blue Belt Programme is committed to working with NGOs, academics, businesses and external stakeholders.
The Blue Belt Programme is initially focused on seven islands and archipelagos: British Indian Ocean Territory, South Georgia and the South Sandwich Islands, British Antarctic Territory, Pitcairn, St Helena, Ascension Island and Tristin da Cunha.
For more information about the Blue Belt Programme:
Web:
http://
www.gov.uk/government/publications/the-blue-belt-programme
Email:
Bluebelt@marinemanagement.org.uk