Innovative battery delivered to Portsmouth International Port as part of PESO decarbonisation project
Posted 2020-08-19 09:00:41 by Admin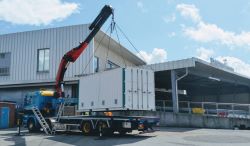 The PESO project is being led by Marine South East and supported by the port alongside Swanbarton and Energy Systems Catapult, the scheme will demonstrate how a port can operate as a smart energy network.
The port already has significant energy generating capabilities from solar panels across the site, so the ability to store electricity and then use later at times of higher demand means that clean energy can be used much more efficiently.
It can also be used by the wider electricity grid to help smooth demand at peak times, or provide power for electric vehicle charging.
The new GS Yuasa dual chemical energy storage system comes in the form of a weatherproof shelter that will be able to supply 100kW of power. In real world terms, this means four mid-range electric cars could be charged at the same time using energy stored in the battery.
It uses lithium-ion technology as well as standard lead acid Yuasa ENL battery technology. These batteries are manufactured at GS Yuasa's Ebbw Vale factory in Wales where final assembly and integration of the entire system takes place. The system's lithium batteries come from Japan.
The funding to develop and build the prototype system is coming from Innovate-UK's 'Prospering from the Energy Revolution' fund. The system is due to come into operation in early 2021.
Mike Sellers, port director at Portsmouth International Port said: "I'm delighted that this important milestone has been reached. This initiative has the potential to have significant benefits for the port, and could also provide a solution to smart energy use that can be shared with the wider port industry.
"This innovative project demonstrates our ambition to be one of the UK's first zero-emission ports. Being at forefront of research into sustainable energy projects like this will help us reach that target."
Dr Jonathan Williams, CEO of Marine South East, 'The decarbonising of our ports and shipping sector presents enormous challenges requiring innovative energy systems. MSE is delighted to be leading the PESO consortium to explore the role of port batteries in this energy transition.'
Anthony Price, Managing Director of Swanbarton added, "Making electricity storage work is an important part of the route to zero emissions, and we are looking forward to integrating Swanbarton's innovative storage management controller with Yuasa's new dual battery system to demonstrate both energy and cost savings."
Liam Lidstone, Business Leader Infrastructure & Engineering at Energy Systems Catapult said "The Catapult see the decarbonisation of ports as a key part of the UK's route to net-zero. We are delighted to be a partner in this project and are looking forward to sharing valuable insight for ports in the UK and beyond."
For more information please visit:
https://
www.marinesoutheast.co.uk/ongoing_projects/?link=collection.php&amp
;id=429